Welcome USAA members!
Whether it's a birthday party, anniversary or baby shower, organizing a thoughtful event requires meticulous planning, not to mention a lot of energy. Unfortunately, you can't plan everything and unforeseen occurrences like extreme weather, accidents, or illness could very well leave you in an uncomfortable position. Luckily for you, you can protect your event (and yourself) with Markel Specialty event insurance. With over 10 years of experience providing special event insurance, we've seen a thing or two, and know how to protect against it. Our special event coverage will help protect you for non-refundable deposits, cancellation fees, injury, liability, and more.
We offer affordable prices on both event liability coverage and event cancellation coverage, and best yet, if you purchase both coverages together, you can save up to 15%!*
Markel Specialty is proud to team up with USAA to offer protection for a variety of events, including:
Weddings
Anniversary parties
Baby showers
Baptisms
Bar or bat mitzvahs
Birthday parties
Housewarming parties
Memorial services
Quinceañeras
Retirement parties
Special achievement receptions
Much, much more
With a Markel Specialty event insurance policy, you can be sure your special day is covered. Get a free, no-obligation quote today!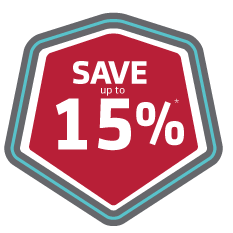 Get complete protection for your event and save!
Save up to 15% by purchasing both event liability and event cancellation coverage, and rest easy knowing your event is protected.
Event insurance is your backup plan for the unforeseen
From weddings to retirement parties and everything in between, Markel Specialty will protect the events that matter in your life.
Event liability? Event cancellation? What kind of coverage do I need for my event?
Event liability covers damages you may be held responsible for such as venue damage or personal injury to a guest and, additionally, host liquor liability.
Event cancellation covers non-reimbursable deposits if you must postpone or cancel due to unforeseen circumstances such as military deployment, extreme weather, and more.
FAQs
Event insurance doesn't need to be complicated. Explore the most commonly asked questions about event insurance, and get the answers your looking for.

CLAIMS
Accidents happen and when they do, we are here to help. Learn about our upfront claims process and how you can help.

CONTACT US
Whether you have a question on your policy, or are interested in purchasing a policy, we'd love to hear from you.
Get a quote
Get a fast, free event insurance quote online and get the protection and peace of mind you deserve. Or call +1.800.388.0169 to speak with an event insurance specialist.
Markel Specialty is now offering event cancellation and postponement policies and endorsements in select states. To learn more, including to see if Markel's event cancellation or postponement policy and endorsement is currently available in your state, please visit our communicable disease notice page.
Other Markel Specialty coverages available to USAA members
*Insurance, coverage, and discounts are subject to availability and qualifications and may not be available in all states. Coverage descriptions listed are intended to be brief and do not replace actual policy language. For questions or a complete definition of coverages and discounts available to you, please call a Markel Specialty insurance specialist at +1.800.388.0169.

Use of the term "member" or "membership" refers to membership in USAA Membership Services and does not convey any legal or ownership rights in USAA. Restrictions apply and are subject to change.

The USAA Insurance Agency (the "Agency") contracts with insurance companies that are not affiliated with USAA to offer products and services ("third-party insurance products") on their behalf. Third-party insurance products are not underwritten by USAA or its affiliates. The Agency receives a commission on the sale or renewal of third-party insurance products and may receive other performance-based compensation from them. Product availability may vary in some locations. Applications for insurance are subject to underwriting by the insurance carrier. Any product or coverage descriptions are brief. All coverages are subject to the terms and conditions of your policy. Read your policy for details. USAA Insurance Agency means USAA Insurance Agency, Inc., or USAA of Texas Insurance Agency (collectively the "Agency"). CA Lic #0D78305, TX Lic. #7096. 9800 Fredericksburg Road, San Antonio, TX 78288. 258469–1221

Privacy policy | Cookie statement | © 2023 Markel Group Inc.