Event cancellation insurance
Because every detail matters
In the event that you have to cancel or postpone your special event due to an unforeseen circumstance, Markel's event cancellation protection will coves non-refundable deposits and non-reimbursable expenses.
Examples of unforeseen circumstances:
Extreme weather
Accident
Illness
Military deployment
Vendor goes out of business
Markel's event cancellation insurance even protects you if you choose to go forward with your event despite unexpected setbacks. Did the reception hall just file for bankruptcy? Just found out your photographer has gone out of business and now you're scrambling for a replacement? We've got you covered. Markel event cancellation insurance will also provide coverage for such things as:
Lost wedding rings
Damage to special attire
Vendor no-show
Lost or damaged photography
Lost or damaged videography
Lost or damaged gifts
Event postponement and cancellation
Every special event is different. Markel event cancellation insurance can be tailored to meet the specific needs of your special event, either with special policy limits or by including event liability coverage (which many venues now require). Policy limits are determined according to total wedding budget. Take a look at some of the areas of coverage we offer.
Loss of deposits
Often, the bulk of your expenses are vendor deposits. If a vendor is a no-show, goes out of business or fails to provide the contracted services, we'll reimburse you, up to your policy limits.
Event photography and videography
In the event that your professional photographer doesn't show up, we make sure it's not a total loss. You're covered for the amount you agreed to in your contract and for loss or damage to the original film or digital files before you receive them, including video.
Special attire and jewelry
Fact is, wedding dresses and tuxedos aren't cheap. If your attire is lost or damaged prior to your wedding, we pay the cost to repair or replace it up to your policy limit. The same goes for wedding-day jewelry like wedding rings and heirlooms. Your jewelry is insured for seven days prior to the event.
Wedding gifts
For seven days prior to and seven days following your wedding, we cover the cost to repair or replace lost or damaged gifts. Gifts are covered while at the insured's home as well as in a locked vehicle.
Extra expenses
Cancellation of your wedding should be your last resort. Our coverage ensures that you have the option to make last-minute changes so your wedding can go on.
Professional counseling
Planning a large event can be an emotionally taxing time. If a medical professional recommends counseling due to the cancellation or postponement of your event, we'll cover the cost of therapy for up to one year from the date of the event.
Exactly how much coverage do you need? Look at the chart below, which states coverage limits based on your total overall event budget.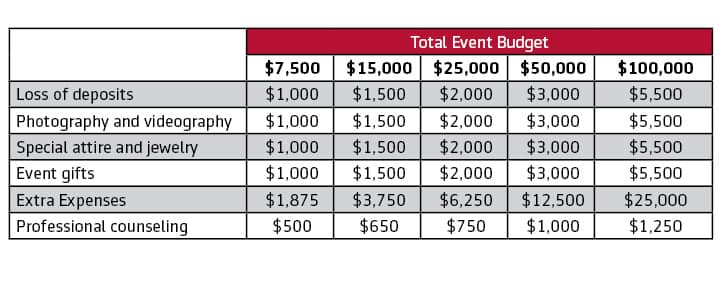 Save up to 15% when you purchase both event cancellation and event liability insurance

*Limits are subject to change. Rates shown are for all states except AK. Insurance, coverage, and discounts are subject to availability and qualifications and may not be available in all states. 10% discount for FL residents. Professional counseling coverage is not available in TX and VA. Coverage descriptions listed are intended to be brief and do not replace actual policy language. For questions or a complete definition of coverages and discounts available to you, please call a Markel insurance specialist at 1-800-388-0169.